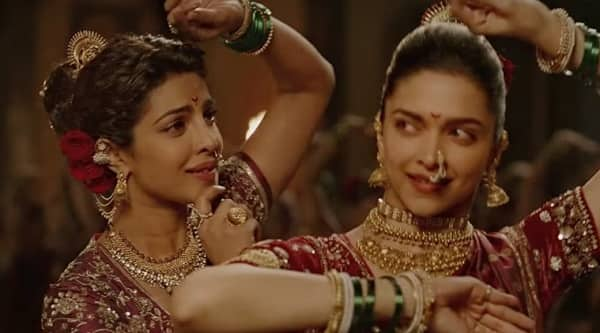 Another controversial bomb hits the SLB camp!
Already Sanjay Leela Bhansali's magnum opus film, Bajirao Mastani is going through a controversial face.
Not only is it facing the competition of Dilwale but is also going through legal issues with respect to the pcturisation and distortion of facts. Now it is baffling that by the trailer alone, people have lashed out at the facts that have been distorted in the name of creative freedom. It all started with thrashing Deepika Padukone-Priyanka Chopra's song Pinga. And looks like it has gone back to the song Pinga!
While the descendants of Peshwa Bajirao and Mastani have made their points out in public in a press conference, she pointed out their concerns with respect to the script of the film, the songs of the film and the fact that the director has not responded to their pleas. This is not the first Sanjay Leela Bhansali film that has been scrutinized for its content. But then again, it is quite sad to learn that the film has alarmed a lot of Maharashtrians who are offended by the trailer and the songs. In fact, one such social activist, Hemant Patil of the NGO, Bharat Against Corruption has filed a petition in the Bombay High Court seeking stay on the release of the film until the two songs, Pinga and Malhari are not censored.
A few excerpts from the petition claim, "The filmmaker has tweaked facts under the pretext of artistic licence. There are various historic evidence as well as several letters from the descendants of Peshwas which prove misrepresentation in the name of creativity." Not just that, it has also pointed out the disgraceful representation of Bajirao's first wife Kashibai and Mastani doing a dance number. The petition further claims, "The song Pinga is offensive to Marathi culture. It is a known fact that Kashibai was a handicap and suffering from asthma, and hence it is highly impossible that she danced with Mastani. The said song is nothing but an obscene item song."
Wow! Pinga maybe the number one song in your playlist but it is certainly not in their list. Do you think the songs Pinga and Malhari should be censored from the film? Let us know in the comments section below!