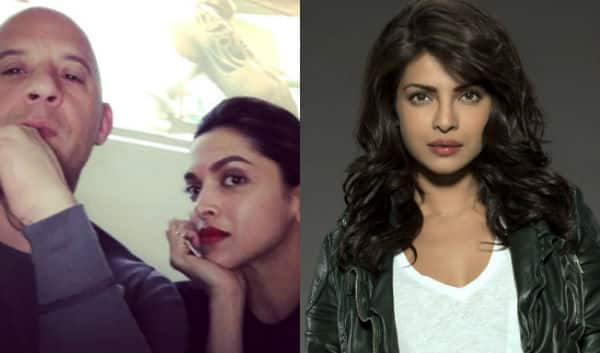 Now that Dippy will be seen in XXX with Vin Diesel, she might as well follow co-star PC's footsteps into becoming a hot shot like her in Hollywood.
Deepika Padukone pulled off a Kim Kardashian and broke the internet recently. No, she didn't flaunt her derriere on the cover of a magazine but she did post a rather interesting picture with Fast and Furious sensation Vin Diesel. The actress posed with the hunk, who had his back to the camera. But owing to the XXX sign above, it was obvious that it was Vin with Dippy and soon speculations began of the two having collaborated for the next XXX venture.
BollywoodLife gave its readers exclusive details on how Dippy bagged this role. The actress is certainly on a roll! After having given us Tamasha, she will be seen as the gorgeous Mastani in Sanjay Leela Bhansali's Bajirao Mastani which also stars her beau Ranveer Singh as Bajirao and Priyanka Chopra as Kashibai. Everyone was wondering about what Deepika's next project was post this SLB directional and now we know! The beauty will star in Vin's XXX: The return of Xander Cage. Now THAT, is super awesome.
What's interesting is the fact that Deepika's Bajirao Mastani co-star Priyanka is already known for her role as Alex Parrish from Amercian TV series Quantico. The actress has carved a niche for herself oversees, not only with her TV show but also two back to back musical hits(Exotic and In My City) with the likes of Pitbull and will.i.am.
With Dippy and PC being co-stars as well as close friends, I feel the former could definitely take some tips from her Quantico gal pal, to make it big in Hollywood. Here are 5 things Dippy could do:
# Tweet on
PC is big on social media and that's what adds more to her popularity. She's constantly keeping her fans in the loop about Quantico, Bajirao Mastani or any other venture that she's associated with. Apart from promoting her work, the actress also takes to Twitter to post personal thoughts and opinions, that all her fanfare can relate to. She keeps in touch with her admirers and holds Q and A sessions with them on a regular basis. Deepika on the other hand mainly tweets about her work or retweets other messages. If the actress is more active on social media like PC, she will be able to connect more with her fans, which will put her further on the map.
Bridging the gap
PC kept us in the loop about the rest of the star cast on Quantico, which was a smart move on her part. The actress introduced the world to all her pals from the sets of the show, with goofy pictures. Dippy could take that route so that she as well as the film on the whole, gets publicized. Although Dippy made her first move by posting a picture with Vin, she should continue the practice with the rest of the star cast from XXX.
Talk show pro
After Aishwarya Rai Bachchan, PC was seen attending America's leading talk shows like Jimmy Kimmel, and Good Morning America. Not only did the cool and confident Priyanka floor everyone with her charm but she also made a few fans dance to the tunes of her hit song Desi Girl. If Dippy could also make an appearance on these talk shows and make her presence felt. And maybe make fans dance to the tunes of Lovely? It's an interesting thought!
Hollywood meets Bollywood
Now that Dippy has direct access to Hollywood, she could make Vin do some desi stuff. If we all remember, PC once revealed that some of her Quantico co-stars were fans of her film Gunday. I'm sure Vin too must be a fan of some Bollywood film or dance number, which Dippy could make him dance to. It's always fun when Bollywood meets Hollywood!
Meeting the fans
I'm sure just like PC, Dippy too must be having a huge fan following oversees. We all remember how PC took time out to meet and greet all her fans once. In fact she ditched her lunch break, to do this! Dippy too could connect with her fans on a personal level and win them over, just like PC did.