Shah Rukh Khan, Salman Khan, Aamir Khan, Hrithik Roshan – Actors who took health risks for their roles!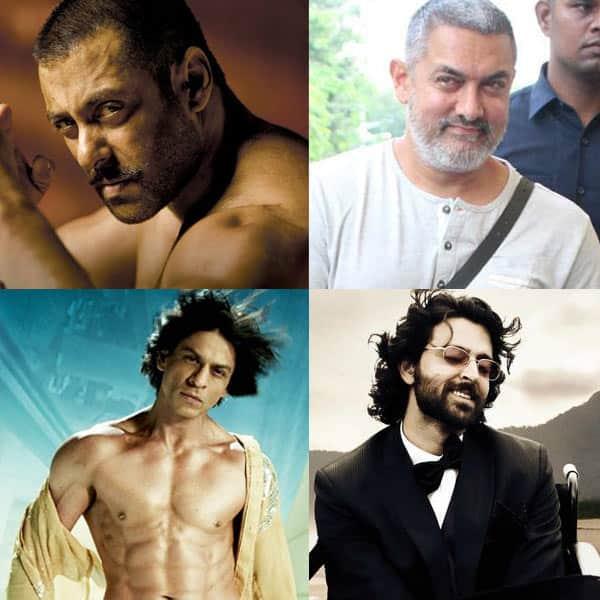 We love them so much that superstars feel obliged to serve us with the best and in the process, put themselves at risk. Here are a few of them who made us proud…
We love our superstars and try to emulate them. Fans love them and would do anything for their screen idols. But what we don't often factor in is such popularity, fame and love comes with a price tag which the stars often pay with their health.They are artists who are hungry for appreciation. They want people to acknowledge their hardwork in the form of box office collections. And for that they can go to any lengths; that's where arises a problem sometimes. Often, in their urge to serve something different to the crores of fans they decide to do something out of the box and different and the first thing that takes a backseat in such cases is health. Many a times, our superstars have put their health at risk to transform into a character. We give you a few examples here…
Aamir Khan
Film: Dangal
Health risk:
Sudden weight gain! From 68 kilos, he went to 95 kilos. He even collapsed while shooting Dangal in Ludhiana recently which later turned out be a shoulder injury!
Aamir is a perfectionist. In fact, the term became a rage after getting associated with him. It his dedication to his craft which makes him take risks to get the desired effect. But what he is doing for Dangal, has put his whole family on high alert, we've heard. It is a story of Phogat sisters and their father's contribution to their struggle to the top. To achieve the right look, Aamir has gained enormously putting his health in danger. He himself admitted that it is making things difficult for him. He says, "I am 95 kg right now and that's enough for the character. My breathing has changed… when I tie my laces, my stomach comes in between. After 20 seconds, I have to (take a long) breath."
Salman Khan
Film: Sultan
Health risk:
Weight gain from 87 to 94 kilos and strenuous exercises to look the part of a wrestler. The man to man combat practices have left him deeply bruised!
Not many credit Salman for going out of his way to change his form for any role. He likes to keep it simple and uncomplicated. Also, he didn't really have a reason to get into drastic body frames as fans don't want him to change until Sultan happened. Turning into a wrestler for the film is taking a toll on him. When we met him during the press interaction of Prem Ratan Dhan Payo, he looked tired and exhausted and it seemed as if the mention of Sultan resurrected a few wounds. He was 87 kilos when we met him and he had informed us that he will go ripped to hit 90-92 kilos. At 50, this is nothing short of a health risk. He said, "The strenuous exercises are yet to start. I have one more month of training to get that done. I am hurt all the time, my knee, neck, shoulder…! Now, I feel why I did it. This is difficult. See, I can get back to a shape I was earlier but to get into a shape I never was is harder." Next time, think before you decide to not list this actor under the method actor category!
Hrithik Roshan
Film: Guzaarish
Health risk:
Binging on junk food spiked his weight to alarming proportions that messed with his medical reports.
He is handsome, he can make girls go weak in their knees by just looking at them once, he inspired a generation of men to flaunt good body and yet he decided to let all go for a film! Hrithik Roshan in Guzaarish was unlike what we have seen him till then. He didn't mirror anyone's fantasy in the film, he didn't make anyone soon over him and yet he won our hearts. Playing a Quadriplegic is not so easy and since he is shown completely bed-ridden for years in the film which results in weight gain,he chose to ditch a healthy lifestyle. He hogged like never before on all kinds of junk so much so that his body started retaliating. He had said in an interview to a news agency, "For 15 years, I lived such a healthy life with a proper diet and workout. Then suddenly such a major shift, so my medical reports had gone crazy and the doctors were forcing me to stop it." In fact, Hrithik even had a bulging tummy!
Vidya Balan
Film: The Dirty Picture
Health risk:
Massive weight gain! She piled on 10 kilos to look the part putting her health at risk!
Every accolade or award that Vidya received for The Dirty Picture was worth it. But for that, she had to gain 10 kilos to look the part of a South Indian bombshell. She looked her part and acted so well that she took home a National Award. At such a point in her career, no other heroine would have taken this risk of gaining so much weight for an audience who desires to watch skinny ones on screen but when you are a dedicated actor, such frivolous things hardly matter.
Shah Rukh Khan
Film: Om Shanti Om
Health risk:
Painful back which only got aggravated by his exercises to get the six pack abs. It could have easily backfired…

You might argue that the six pack abs in Om Shanti Om was unnecessary. He needn't have done that and the film would have still made so much money. We totally agree with you but the point here is he did it for his friend Farah Khan and at times, you do weird things for your friend. He got a six pack abs at the age of 42 which in itself is alarming! Yes, he acquired it in a healthy way but that doesn't rule out the fact that he had put his health at risk by doing so. According to reports, Shah Rukh's back was giving up on him then. He was in pain due to it yet he did it. He did it for his fans because he played a superstar of current generation and which superstar doesn't have six pack abs now! He was just sticking to the norm