Find out how Ranveer Singh impressed Amitabh Bachchan!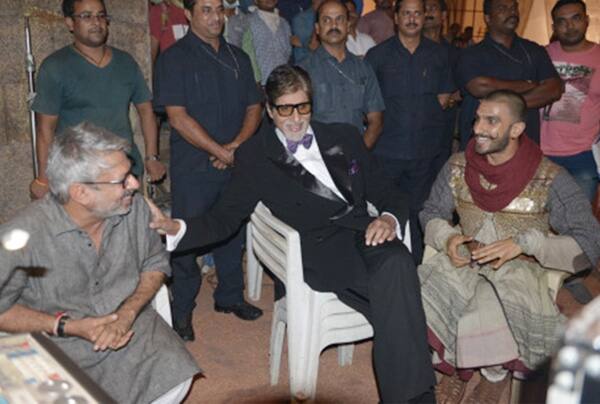 The actor did something special for his idol, which might have just impressed him..
Most people may not know this but Ranveer Singh has a huge admiration for Amitabh Bachchan. And while most people go blank or speechless in the company of their idol, it is not the case for Ranveer. The young actor broke into an impromptu jig and started dancing when Amitabh Bachchan dropped in on the sets of Bajirao Mastani and surprised everybody there.
When Big B showed up on Sanjay Leela Bhansali's huge set, there was pin-drop silence for two minutes. Says a source from the crew, "There were 250 unit members comprising 180 chorus dancers, technicians and actors. When Mr Bachchan walked in, everyone just stopped short in their tracks and froze." Except for the hyper-active Ranveer Singh, who spontaneously broke into a vigorous warrior dance.


The source further adds, "None of us expected Mr Bachchan to drop in. He was shooting for his serial Aaj Ki Raat Hai Zindagi on the adjoining set." Apparently, Big B was mighty tickled by Ranveer's enthusiasm and his energy level. Isn't that amazing when your idol likes your style?
Bajirao Mastani, also starring Priyanka Chopra and Deepika Padukone, is all set to clash with the Shah Rukh Khan, Kajol, Varun Dhawan and Kriti Sanon-starrer, Dilwale on December 18. Based on the life of a Peshwa warrior, Baji Rao, Bajirao Mastani depicts the story of the warrior and his second wife Mastani (played by Deepika). Are you excited about Bajirao Mastani? Tell us in the comments section below!