Yes, this is happening and you've got to read on to find out the full story…
We told you how Varun Dhawan and Kriti Sanon will be seen promoting Dilwale on Bigg Boss 9 over this weekend. They shot for their episode yesterday where we even came across this adorable picture that has host Salman Khan posing with Varun and Kriti in the cutest way possible.
But you wouldn't believe what happened on stage after that! Amidst hasee-mazaak, Salman enacted a romantic scene from Hum Dil De Chuke Sanam with Kriti Sanon playing his Nandini aka Aishwarya Rai, can you imagine?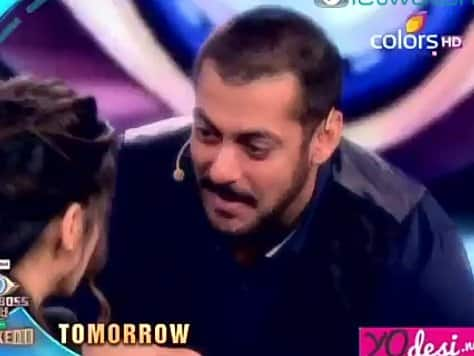 This special episode will be aired tonight where Salman and Kriti will be seen having an eye-to-eye conversation, on the lines of Sameer and Nandu from the epic love saga.
Lucky Kriti, it really looked as if Salman was taken back to the 90s, delivering his dialogues with literal love! Was he getting nostalgic about his good times? Well, you will figure that out in tonight's episode.
But for now we cannot stop crushing on the idea of having Salman and Kriti in a film together. They look so damn good together!
While Kriti and Salman will be seen debuting as a hit jodi on Bigg Boss 9. Varun too will leave you impressed with his oh-so-cute antics.